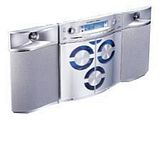 Handsome super-slim vertical three-CD stereo plays all formats, including CD-R/RW and MP3-CDs with ID3 tag text.
Its three-way DETACHABLE speaker system delivers rich stereo sound.
Features an AM/FM digital tuner with 32 presets.
Motorized doors automatically slide open at the touch of a button for easy access to the trio of vertical-loading CD players.
A cool, soothing blue backlight illuminates the trays for easy viewing.
The LCD alarm clock lets you wake up to a CD or radio.
Dynamic bass control plus five equalizer presets allow you to customize the sound to your satisfaction.
Also features jacks for an optional subwoofer and headphones.
Comes with a handy wall-mount bracket for a modern-looking, space-saving display. Slim 3-CDs ultra-thin profile is just 4 1/2" deep! Ideal for a narrow countertop or crowded entertainment center.
Control all functions from unit or by using the credit card remote.
Paid $300, asking $125 OBO
785-218-7030 anytime!