I have a few new users want to know how to post pictures. It really is pretty simple.
You just need to find a place to "house" the pictures on the internet.
***Please note the "*" attached to the IMG items are not in your posts, they are just added to show an example below"
To post your personal pictures:

1. Sign up for favorite free photo uploading sight (photobucket, flicker, picasa, etc..)
2. Upload your photos (or google for website images) and then keep website open
3. Open new browser window and go to larryville
4. Make new post and click IMG button (next to last button on the upper toolbar)
---> something like this should appear [*img][*/img]
5. Go to your ORIGINAL browser window and RIGHT click on your photo and select "Copy Image Location"
6. Return to your post and put your cursor between the two brackets and paste "[*img]

PASTEHERE

[*/img]" <---most likely ends in .jpg
7. Finish your post and preview

Example:
Link to a Jayhawk picture is at http://newsimg.ngfiles.com/44000/44722_Jayhawk.jpg

Your post will look like this (minus the *'s)
[*img]http://newsimg.ngfiles.com/44000/44722_Jayhawk.jpg[*/img]"

Final post looks like this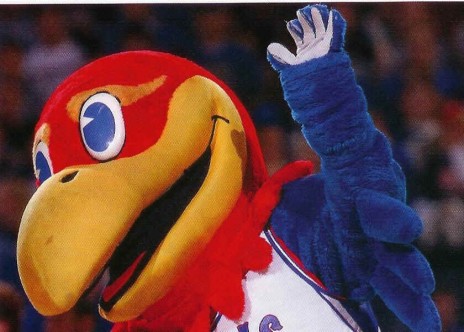 Good Luck